AFFORDABLE

PRICES

FRIENDLY

& TIDY

WORK

GUARANTEED

LATEST

TECHNOLOGY

AFFORDABLE WOODEN FLOOR RESTORATION, REPAIR & REFINISHING CO. IN BEXLEYHEATH



Covered in old sealant, daubed in paint, hidden by carpets..
​Shabby, marked and gouged...
If your natural wooden floors are a cause for shame rather than celebration, don't delay a day longer.
Sanding and sealing will transform them into a presentable feature...
Choose Floor Sanding Bexleyheath in DA7 for floor repair and resealing.
From hardwood boards to parquet blocks - at every age and level of condition - our teams have restored hundreds of floors over the past twenty years.
You'll get the best advice for your floors' needs - for wear or looks - in the home, office, bar, school, gallery or restaurant.
And the complete service:
- replacement and repair of damaged timber;
- sanding away old paint, grime and sealant;
- staining for a change of colour; try a fresh look such as pale grey or Scandinavian white.
- resealing with oil, lacquer or hard wax.
All with the minimum of mess and disruption. Our
machines provide sanding that is virtually dust free.
And flexible working - at weekends or even overnight
- will fit around your domestic or business schedule.
So call us today for your free assessment. For new floors unsullied and free.
Floor Sanding Bexleyheath - for floor repair and restoration.
Bexleyheath – villas and mansions
The borough has three notable buildings:
The Red House of 1860 was the first house William Morris - the ultimate Victorian visionary, craftsman and writer - designed for his family. Described by his friend Burne Jones as ' the beautifullest place on earth', it has a homely air with an interior containing stained glass and original furniture in Arts and Crafts' style.
Hall Place is a grand Tudor mansion of 1537 with distinctive stonework and a staircase tower.
While Danson House is a Palladian villa of 1766 - by the architect who designed the Bank of England. From a state of sad ruin in 1995, it has been restored by the borough to its rightful condition - and now welcomes visitors.
Your own property may not be a match for the splendours of these buildings, yet you can start with a fresh approach to your floors. Contact us today!
Latest News, Recommended Articles & Tips
Why patience is your best friend when floor sanding
We've all read them: the lifestyle blogs where battered old floors are transformed into sleek and gleaming beauties in a weekend. And while a professional floor sanding and finishing company can certainly work fast, the dream of DIYing gorgeous floors in a weekend is just that, a dream.

The fact is, when you're hiring dust free floor sanding machines and tackling the job yourself, the key quality you'll need is patience. Why? Because every step of the process requires time and attention to detail. Rush any of those critical stages and you'll end up with a mess, not an immaculately finished floor.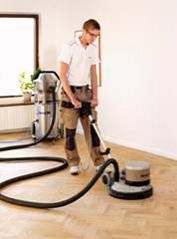 Patiently prepare

Half of the success or otherwise in your floor sanding efforts depends on how well you prepare for the job. Take the time to remove skirting boards so you can sand as close up to the walls as possible. Mask off any furniture that can't be moved out of the room, plus all your electrical sockets. Search each plank patiently for nails - or drag the back of a spade methodically across the floor, listening for the sound of a nail hitting metal. In short, simply preparing your room properly for floor sanding can take a big chunk out of your weekend.

Push with patience

Once you've fired up that big sanding machine, you'll need to enter into a zen-like state because you're going to be guiding it across your floorboards for some time. Always let the machine do the work, and move patiently and methodically across the floor in the direction of the wood grain. Once you get into the rhythm, this is both relaxing and hugely satisfying. But quick it is not.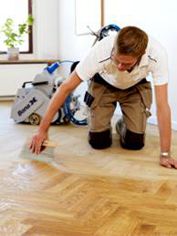 Finish with care

If you thought that finishing up your floors was a quick and easy job, think again. First, you'll need to hunt down and eliminate every speck of dust, every pet hair and every lost eyelash in the room where you're working because any one of these can completely ruin your finish. Shower, wear long sleeves and trousers, put on rubber gloves and send the dog/cat to the neighbours and you'll stand a chance of creating a superb finish for your floors. Remember, when you're floor sanding and finishing, patience is your best friend and time is something you'll need plenty of!
Before & After
Floor Sanding Bexleyheath